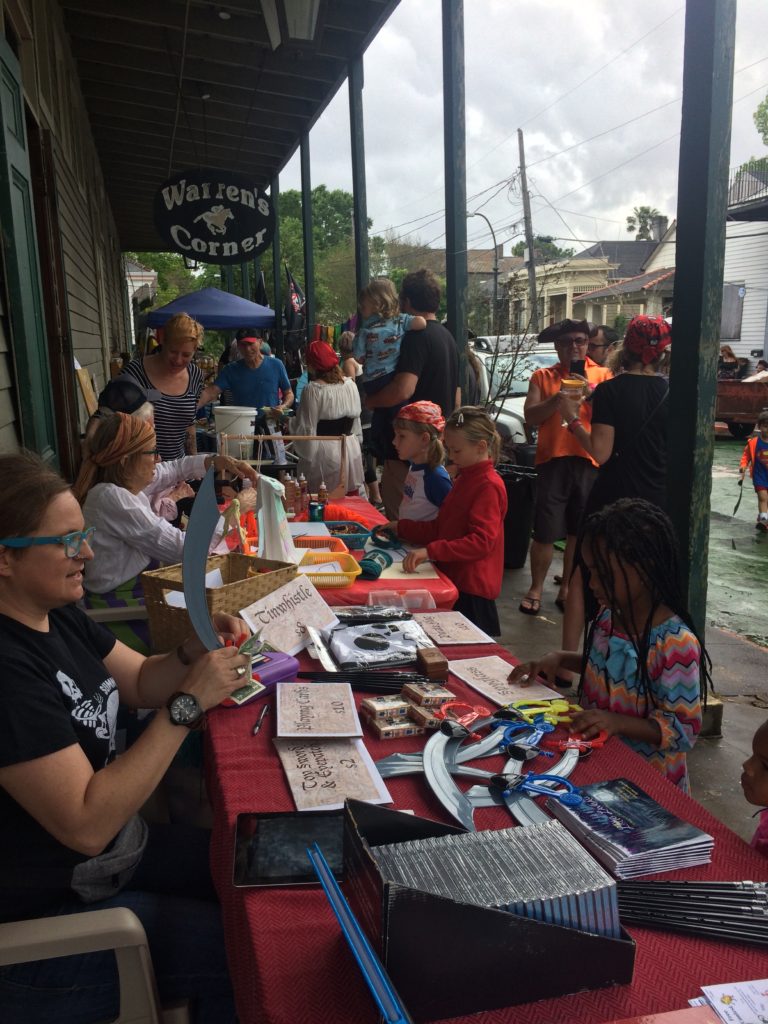 I had a great time at the Family Pyrate Day held in Algiers Point, New Orleans. The event was organized by Confetti Kids, an non-profit organization that funds fantastic programming for children in the Algiers neighborhood of NOLA. Here's what their website says:
"Confetti Kids is a grassroots nonprofit organization dedicated to improving the quality of life of children in Algiers Point. We maintain parks in our neighborhood, and we try to foster a sense of community by bringing neighbors together for child-centered programming. All Confetti Kids events are open to the public."
Lots of kids and families played and entertained in the alleys and in the buildings. And they were creative: strollers were made up as pirate ships! A big shout out to Katy Hobgood Ray and her crew for organizing a fantastic day with a diverse set of entertainers.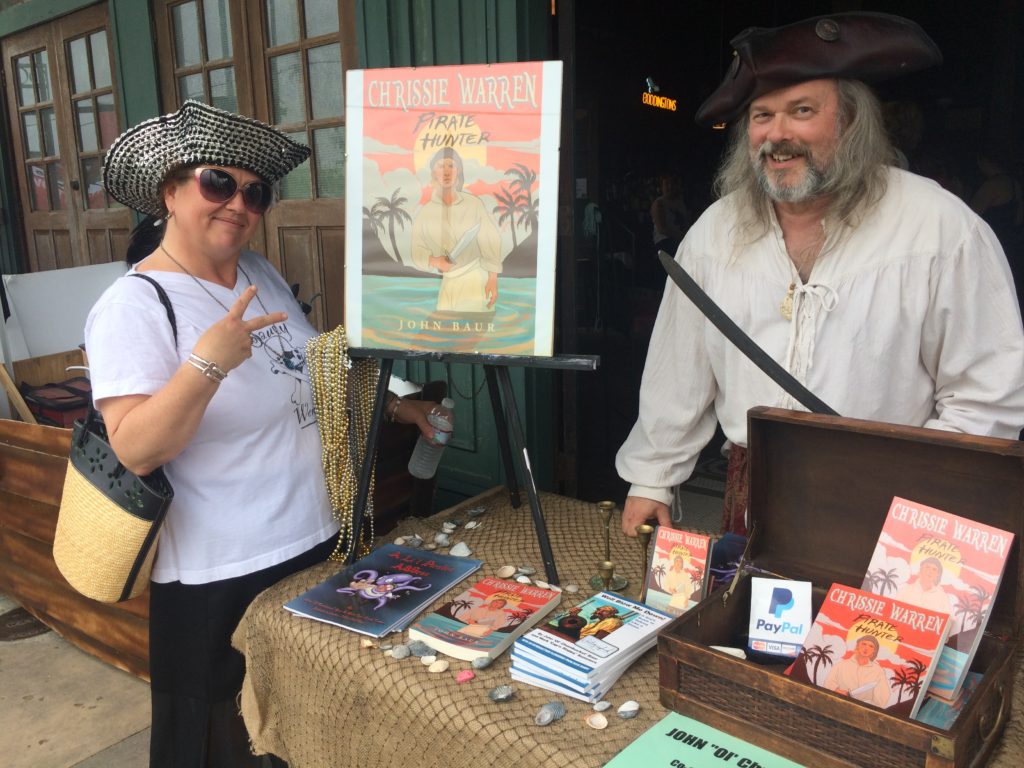 Algiers is an old neighborhood, almost as old as NOLA itself. Walking the neighborhoods was very cool. The streets are narrow, and several houses have architectural features that date back to the 18th century. Many of the residences have great southern-style porches even as long, narrow shot-gun style houses line other streets. Warren's Corner, an old bar, feels as if it hasn't changed for over a century. I was told that the building has doubled as a movie set. On the corner across from event location is the iconic Old Point Bar, which also served as host for the event.
The day's festivities took place at Warren's Corner on Patterson Street across from the levee, and included readings, music and skits by professional and amateur performers. (My reading from The Pirate of Panther Bay was scheduled at 12:30 p.m, but quickly turned into a on-stage theatrical performance with pint-sized tars angling for a sword fight.) Katy has a great song over at the Confetti Kids YouTube channel the captures the spirit of the day called "Watch Out For The Pirates."
The event had a number of "colorful" characters. I had the great fortune of meeting John and Tori Baur. John is the author of Chrissie Warren: Pirate Hunter (check out the review by legendary pirate historian and expert Cindy Vallar here). He is probably best known as Ol' Chumbucket, one of the co-founders (with Mark "Cap'n Slappy" Summers) of International Talk Like A Pirate Day. If you want a great laugh, check out Well Blow Me Down! A Guy's Guide to Talking Like a Pirate.  They have a great interview with Phil Johnson on the Under The Crossbones podcast—Episode #34. (And while you're at it, you can check out my interview–No. 20–on the same podcast.)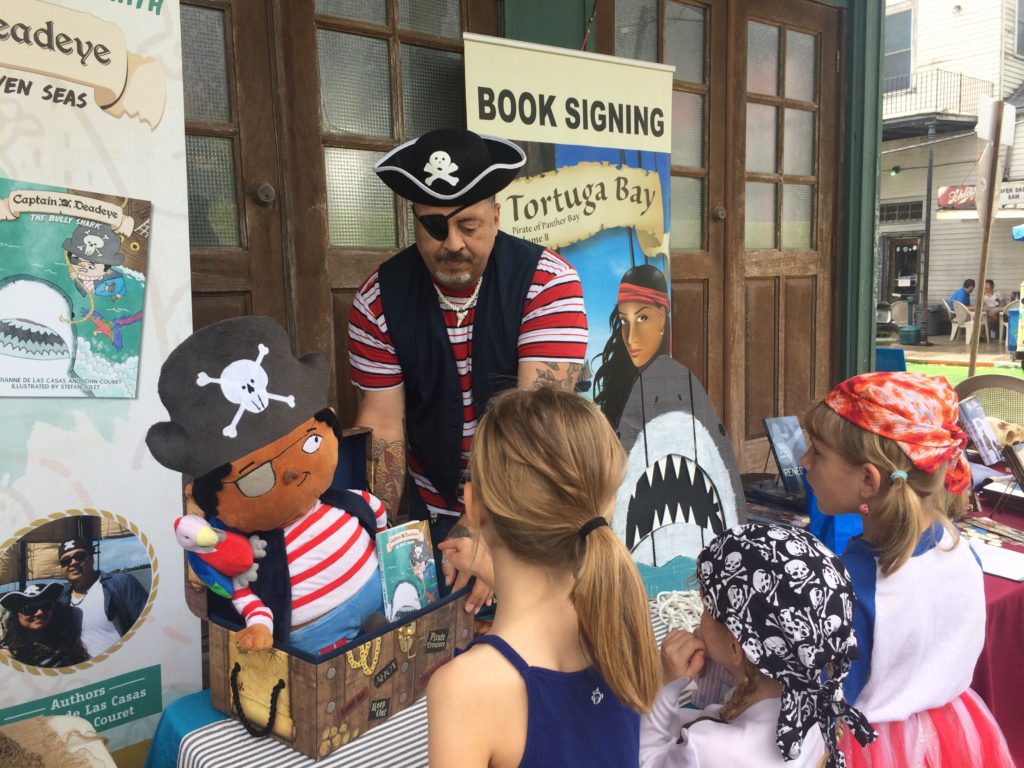 I also spent time with another great team—Dianne De Las Casas and John Couret—co-authors of Captain Deadeye: The Bully Shark. This is a fantastic new children's series focused on bullying, courage, and leadership published through Write Hook Media. The book is a great story for early chapter book readers, and kids dealing with bullying in elementary school (or earlier). They have an entire anti-bullying curriculum built around the series. They were incredible with the kids at Family Pyrate Day, and loved every second they had with them.
All in all, this was a great day to be in New Orleans, and inspiring to see how creatively people have put pirate lore and myth to good fun and use.