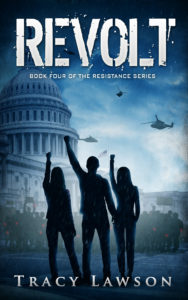 Tracy Lawson and the Resistance Series is what Indie publishing is all about: Giving voice to new ideas, stories and passions and a distribution platform to get those creative works into the hands of readers. Her fourth book in the series, Revolt, brings the dystopian story of Careen Catecher and Tommy Bailey to a stirring conclusion that stays true to its Young Adult themes and characters but refuses to wrap-up the aftermath in a tight, pretty bow.
In Counteract, the first book (reviewed here), we met teenage college students Careen Catecher and Tommy Bailey, a former high school football player sidelined by an injury from a mysterious car accident. They are living in a near future (2030s) dystopian world where the national Office of Civilian Safety and Defense has been charged with "protecting" the public from terrorist attacks. Under the threat of a chemical terrorist attack, the OCSD developed and deployed a serum to protect citizens from its effects. Everyone is required to be inoculated  for their own protection. Careen and Tommy, however, discover that the antidote is actually a mind control drug used by the leaders of the OCSD to take control of the country. They are reluctant resisters. Tommy's parents were supposedly killed in a car accident, leaving him to recover by himself. But Careen's parents have disappeared, and Tommy joins her in trying to find them.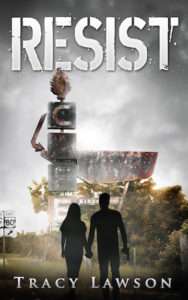 In book two, Resist (reviewed here), Careen and Tommy are on the run from the government after Careen is accused of killing the OCSD director, Lowell Stratford. They find themselves inadvertent and at first unwilling members of a nationwide Resistance movement. The nefarious ways of the OCSD become even more stark as the new director, Madalyn, continues to develop and deploy a serum that will extend mind control to the entire population. Careen and Tommy have different views on how to address the sinister plans of the OCSD, driving a wedge in their relationship that could be come permanent.
This theme continues throughout the series as we find the Resistance is less unified than those from the outside think. Resist brings the question of violent versus peaceful resistance to the forefront of the  story, representing a fundamental tension that ultimately leads to the dramatic climax in Revolt. Careen and Tommy both set out to disrupt the OCSD, but they end up the inadvertent victims of an explosion set by a rogue member of the Resistance.
Ignite (the third book reviewed here) takes us deep into the Resistance. Of the three books, Ignite might be the most traditionally "young adult" of this series. The character arcs of Tommy and Careen become more intertwined and complicated. Careen was wounded in an explosion at the end of Resist, and was captured by the OCSD. As the nation's number one fugitive, Careen's capture represents a coup for Madalyn…and an opportunity to manipulate public opinion in her favor. Madalyn breaks Careen down through torture and deprivation, ultimately convincing her that the Resistance is the real enemy. Careen becomes a spokesperson for the OCSD as Madalyn rebuilds her identity around the values and mission of the OCSD. Meanwhile, Tommy Bailey hides out in the mountains with other leaders of the Resistance looking for his opportunity to rescue her. Ultimately, Tommy embarks on his own mission to rescue Careen.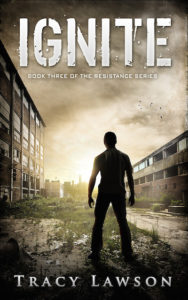 Meanwhile, Madalyn has shifted gears, moving from a chemical-based strategy for controlling the population to one based on 24-hour surveillance through a device called the Cerberean Link. Sold to the public as a way to protect children from starvation and illness, Madalyn envisions a world where everyone is monitored 24 hours a day, seven days a week. Working with Atari, a brilliant IT guru, she plans hijack the link for her own power and personal gain. Careen is one of the first people to be installed with the device, putting her own future, freedom and independence in doubt.
Revolt picks up immediately after Careen's rescue by Tommy, and Lawson uses this as an opportunity to explore the deep, psychological trauma that afflicts those with Post-Traumatic Stress Disorder (PTSD). Tommy's patience is tested as Careen wrestles with night terrors, paranoia about being tested by Madalyn about her loyalty to the OCSD, and her own struggles to recover her identity and sense of purpose. The Resistance continues to fracture as one faction stays on course for violent revolution and another attempts a nonviolent political solution. The wild card in the story is the flawed but gifted Atari who appears to be a Resistance agent but could be working a double cross. Atari's sense of self-importance keeps readers on the edge throughout the fourth book, never quite knowing which side he is more loyal to. While Lawson's ending should leave most readers satisfied, she's left openings for future books and storylines.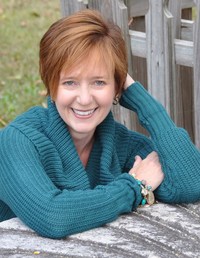 Lawson has created a vibrant, near-future dystopian world that fits well within the Young Adult science fiction genre and issues relevant to our times. Her willingness to grapple with substance directly gives the plots and storylines an embedded complexity that allow her characters to develop steadily and three dimensionally over the series. Her lean writing style keeps the pace fast and momentum forward. For those interested in a fast-paced, modern telling of the dangers of government overreach, the implications for personal freedoms and civil liberties, and how those values manifest themselves in the choices we make on a daily basis, Lawson's dystopian series provides a great ride and lots of food for thought and discussion. 
For more on Tracy Lawson, visit her author page at amazon.com or her website, www.TracyLawsonBooks.com.
Take advantage of these special deals July 17-21 courtesy of Tracy Lawson:
Counteract: Book One of the Resistance Series FREE!
Resist: Book Two of the Resistance Series and
Ignite: Book Three of the Resistance Series for 0.99 each!
Get a FREE PDF of Shatter: Tommy's Prequel to the Resistance Series, which includes a gallery of the amazing artwork created for the series! This prequel will NOT be available on Amazon.
Here's how it works:
Order Revolt: Book Four of the Resistance Series on Amazon for $2.99:
https://www.amazon.com/dp/B071S8KFML
Email your receipt to [email protected], and in return you'll receive Shatter: Tommy's Prequel to the Resistance Series.