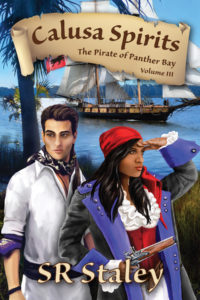 The cover for Calusa Spirits is great, and I think thing it's the best one in the Pirate of Panther Bay series. But what is the story behind the cover of Calusa Spirits?
A picture really does paint a thousand works, and Babski Creative really helped pull major themes together as well as capture the mood and tone for Calusa Spirits, the third book in a six-part series from SYP Publishing.
Let's break it down.
First, you really get the sense that Isabella and Juan Carlos (on the cover) are searching. They are treading into completely new territory, emotionally and physically in Calusa Spirits. In the image, Isabella retains her trademark focus, ready for battle. Juan Carlos is behind her, but he is not passive. He's searching too. I think readers will really get the sense they are a true couple, partners. In fact, while their journeys are rocky and full of traps–some really exciting escapes are necessary in this installment just to survive–an important sub-theme is how they come together as a couple, more than romantic partners. The last scene in fact has a pretty dramatic twist that hinges on which direction their relationship goes. We see this unfold in the story, but the cover art really conveys elements of this, too. Continue reading →