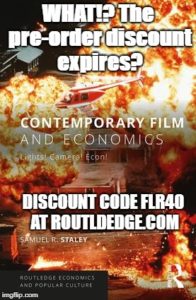 Routledge has set the official publication date for my newest book, Contemporary Film and Economics, for July 19th. More information, including a table of contents, can be found here. Pre-orders using the 20% discount can still be purchased at the Routledge website:
https://www.routledge.com/Contemporary-Film-and-Economics-Lights-Camera-Econ/Staley/p/book/9780815367055
Just enter the coupon code: FLR40.
I attempt to bridge the worlds of economics and film in this book, showing how economic thinking can illuminate plots and conflicts that directors and producers may not even be aware of themselves. As a movie reviewer and author of a feature-length screenplay (registered but as of yet unproduced), I thought I could also show how economics could deepen stories.
I appear to have hit the mark:
"Translating economic theories into stories that anyone can relate to is one of the more formidable challenges I face as a teacher of economics.  Staley's Contemporary Film and Economics accomplishes that feat in a way that is entertaining and subversively educational by showing us how some of our favorite films reflect the principles of economic theory, even if they don't know it themselves." — Jason Stephens, Associate Professor of Teaching at Columbia College of Chicago and Chair of the Board for Kartemquin Educational Films.
"Sam Staley brilliantly merges the lens of the director with the lens of economics to provide powerful insights to economic concepts and analysis. Contemporary Film and Economics starts in Hollywood and then digs deep into the world of economics.  Covering important topics such as growth, development, entrepreneurship, and political decision making, the author moves the reader from the silver screen to the everyday choices that produce wealth and prosperity."  — Joseph Calhoun, Director, Stavros Center for Economic Education, Florida State University and co-author Common Sense Economics.
I am very excited to have this book out and in print!