By SR Staley
A virtual firestorm of debate erupted last month over a rape scene in the popular HBO show "Game of Thrones," a long-running series based on George R.R. Martin's weighty fantasy novels "A Song of Fire and Ice." I haven't seen the specific episode, or the scene, but the controversy appears to be over a creative decision by the producers & writers at HBO to make a rape scene between two characters a central event out of a minor one in the books.  Martin has responded on his blog by noting that creative differences between film, television, and books have a long history. This, of course, is not controversial and we've blogged on these differences before (see here , here, and here).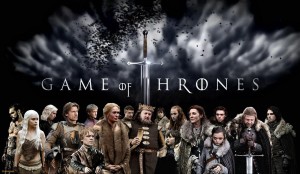 What is more controversial, or at least worth discussing further, is the role that sexual violence and rape play in storytelling. Martin is quoted in the Guardian newspaper as saying "I want to portray struggle. Drama comes out of conflict. If you portray a utopia, then you probably wrote a pretty boring book."
Does the pursuit of drama and conflict justify using rape and sexual violence as a plot device? Is rape just a plot device? I've struggled with this very question because my novels often deal with sexual violence in some form or another. Systemic rape during slavery is an essential part of the backstory for Isabella in The Pirate of Panther Bay, and a motivator for her drive for personal freedom as a pirate. The existential threat to Maria in Renegade is the use of sexual violence and rape to destroy her, physically and emotionally. So, I am very careful to think about how sexual violence and rape figure into the story line and development of my characters. At first blush, I found Martin's comments flippant and remarkably insensitive.
Of course, rape and sexual violence work as plot devices only to the extent they cause conflict. Ironically, in the value system of Game of Thrones (and most societies before the Enlightenment and emergence of humanism), rape and sexual violence were "normal," or at least insufficiently deviant to create the conflict that propels story. The fact that readers and viewers are responding to the rape scene in disbelief, anger, and horror because of its depravity is a sign of social and cultural progress. So, in the sense of creating conflict among contemporary readers, rape and sexual violence can be an effective plot device.
But, good stories need more than plot devices. The plot points must move the story and characters forward. This appears to be the essence of the objections to the rape scene in the episode in Season Five of Game of Thrones. On the one hand, rape and sexual violence is a normal part of the story and plot lines. Martin correctly reminds us that his stories are intended portray a medieval world accurately. But this show is not a documentary; it's a narrative story. The creative question is: Do these scenes move the story and characters forward? Or are they devices used merely to hook viewers through shock?
If they move the characters and stories forward, then rape (and misogyny) serve a creative purpose and are justifiable in the context of the story and storytelling. The decision should not just be about drama and conflict; it should be about story. The writer's role is to ensure plot points move the characters down the right paths for the story, whether they move into darkness or into light. I can only hope the writers of Game of Thrones have thought through the plot implications, and the system rape and sexual violence isn't just a plot device to hook viewers through shock.