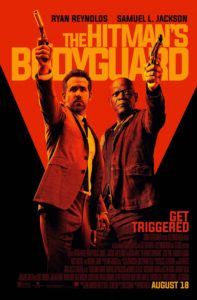 My movie review of The Hitman's Bodyguard starring Ryan Reynolds, Samuel L. Jackson, Salma Hayek, and French actress Elodie Yung is now live over at the Independent Institute. This was a fun movie, an entertaining mix of parody, stylized action, and wise-cracking dialogue. Reynolds and Jackson have great on-screen chemistry.
What I also liked, however, was how the story hinged on a great ethical question that was intimately integrated into the plot: Is the person who protects evil people so they can manipulate the legal system or the one who eradicates evil people more ethical? The movie doesn't answer the question, but the worldviews of Michael Bryce (Reynolds) and Darius Kincaid (Jackson) wrestle with this question for two hours as the body count heads into the stratosphere. The story also has strong themes of forgiveness and learning to appreciate the moment instead of regrets of the past. (The film has car and motorboat chases as well.)
Not everyone gets the movie, but audiences have been kinder than critics so far. The movie has generated $125 million worldwide since its release. As I write at the Independent Institute:
The Hitman's Bodyguard is an action/drama that would normally be considered standard fare for the summer season. Yet this movie does more than careen through dead bodies and extended vehicle chases. The story is driven by the relationship between the core characters and turns on a serious question of ethics and forgiveness. At the same time, the film verges on a parody of its genre. This combination seems to have befuddled many movie critics but not audiences.

Based on my movie scoring, I gave The Hitman's Bodyguard an A. This is substantially higher than conventional critics who seemed to pan it for the cliched plot. I actually saw much of the action as parody and felt the humor offset the seriousness of the heavy ethical and relationship issues that were the center of the relationships between Bryce and Kincaid. The full review goes into these aspects of the film in much greater detail.