My friend Tracy Lawson is launching her newest dystopian thriller, Counteract, the first of a series, on Wednesday, August 6th, and we've got a sneak peek! Tracy's book is a fast-paced adventure examining how we might act in a world in which terrorism has defined every element of our relationship with the government.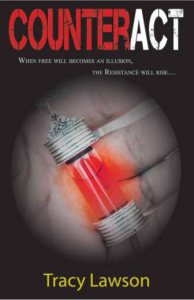 With the population under tight restrictionssupervised by the Office of Civilian Safety and Defense, the government uses the threat of bio terror via chemical weapons to keep us under their control via an "antidote." Would you have the courage to resist? Is it too late to recapture our freedom?
Win chances to win in her special giveaways by leaving a comment on this blog post or clicking here!
Here's the press release:
Ripped from the headlines…The year is 2034, and the United States as we know it is no more. In thefuture, the concept of "Big Brother is always watching" has taken on new meaning.
NSA drone flyovers and government surveillance of citizens' emails and phone conversations are the least of anyone's worries. With the rampant threat of terrorism a constant presence, the government has had to take extreme measures to ensure the public's safety.
The Office of Civilian Safety and Defense (OCSD) has been enacted as an offensive against terrorist attacks. And make no mistake, attack is imminent. Citizens in 2034 now live in carefully monitored quadrants, with regulations governing food distribution, driving, entertainment, and much more. For college student Careen Catecher, and recovering accident victim, Tommy Bailey, life is far from carefree and easy.
Anyone who loves a good dystopian thriller will find a new favorite in Counteract. Lawson joins the ranks of authors like Aldous Huxley, and his Brave New World and George Orwell's 1984, as she questions whether the government should be allowed to usurp personal freedoms under the guise of doing
what's best for the people.
Readers will find themselves eagerly turning the pages as Careen and Tommy uncover the enemy in their own backyard and discover just how far they are willing to go to fight for a freer way of life.