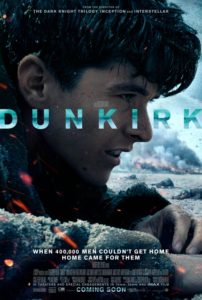 My full review of Christopher Nolan's new movie, Dunkirk, is now live at the Independent Institute. Nolan's storytelling is masterful and innovative, something we've come to expect from an "auteur" filmmaker who brings his own aesthetic and storytelling style to his movies. Dunkirk is not exception.
The film uses several devices to convey the deep, foreboding mood of the evacuation and its implications for the attempts to stop the Nazi invasion of Western Europe. Dialogue is minimal, the plot almost completely driven the actions of individuals non-verbally. Nolan uses sweeping vistas of the beaches of Dunkirk to convey the enormity of the task to evacuate 400,000 troops and the hopelessness. Lines of soldiers snake into the shallow waters of the beaches and breakers with virtually no sign of help stretching out to the horizon (and Britain).
The story of the evacuation—which was a logistical success that mitigated the enormity of the disaster—is told from the perspectives two soldiers trying to use their cunning and opportunity to get off the beaches as quickly as possible, a flight of three Spitfire fighter pilots that get whittled down to one, and a private boat operator and his son sailing into the heat of the battle to rescue soldiers. The stories ultimately converge, but the way Nolan assembles the stories is innovative and sometimes difficult to follow.
Nevertheless, the film is likely to be among the list of Best Picture and Best Director nominees at next year's Academy Awards. I scored the film 9.13  (out of 10) on my rubric and gave it 4 1/2 stars on Rotten Tomatoes.