By Claire W. Staley
Black Widow, or Natasha Romanoff, is a spy in the Marvel Comics universe and, most recently, in the film Avengers: Age of Ultron. She is not the typical super hero, but she's not a villain, either. She's someone with both good and bad clearly etched into her character. She doesn't pretend either way, and she takes the world at full force. She is a goddess of war and a champion of not-so-hero-heroes. She's the one with the past we know is sketchy but we just believe, deep down, she's on the good side.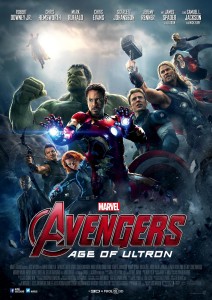 She is not, however, a mother. Parenthood is a large issue for most of the Avengers because Hawkeye (aka Clint Barton) has a family in the film.
But not Black Widow. While Black Widow's inability to have children highlights the fact that having children inhibits women's careers across all fields, the way it was handled was disappointing. Barton, as a male, had a family at the same time as being a superhero. This was not an option for Romanoff, as she is a woman, and she is not allowed to have those kind of attachments to children or accept the kind of bodily change that comes with pregnancy. So the choice is removed. The other guys are allowed to flirt and have children without being called into question if they so choose.
But not Black Widow. This can be paralleled in modern society, as having children almost always inhibits a woman's career. More and more women, however, are deciding not to have children for various reasons, including to focus more on their careers. Women are constantly being called "slut" and "whore" as they exercise their choices involving their sexuality. Meanwhile, men are not impacted by their choice to have a family, have sex, or flirt, as Barton, Stark (Ironman), Thor, and Rogers (Captain America) are not inhibited by it.
Black Widow is the only female Avenger in the group at the outset in the movie, and her character's personality is incomplete without the ability to have children. Being a superhero, having decent romantic and platonic relationships, and saving good people from death is just not enough. She has to have kids and a house and a family, despite the fact that Stark and Thor are quite content not having kids.
Captain America is the only other superhero who might be interested in settling down, but we don't see him complaining about his lack of offspring. Actually, it seems hard to believe he would put people he loves in danger. Moreover, it seems hard to believe that any of them would bring families into the world when they could die at any moment, or their families could be used against them.
Black Widow, in contrast, wants a family like Barton. She doesn't care that it isn't practical or it would be dangerous. It doesn't matter she's almost always about to die. Her womanly role has been taken from her, leaving her to console the self-loathing Hulk (Bruce Banner) like a child. She's always picking up after the boys, as she states, and she's the one with enough feminine touch to bring Banner back from his monster state using various methods of motherly speaking and lullabies.
When Banner tells her he can't have children, Romanoff tells him she can't either. It is the most haunting part of her, that she can't have kids. In fact, the Scarlet Witch uses this to distract her from battle. Her inability to produce offspring literally gets in the way of her saving the world. Isn't her ability to save the world independent of her sexuality, like the other male superheroes? Apparently
Marvel and the movie's producers reduced Black Widow's role and personality to someone who only believes she's worthy if she can give birth. We needed her soft side, her broken side, but we also needed her to understand that her fertility has nothing to do with her ability to be a hero and save people. We needed her to not be given the womanly role of child-bearer for once. We needed her to be a champion because she is a champion, and we needed that to not be put in jeopardy because of her sex.
Like what your read? We'll make it easy for you to share....