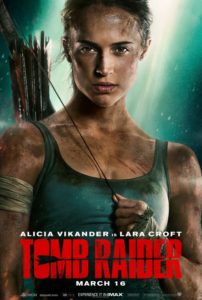 The 2018 reboot of the Tomb Raider film franchise is a serviceable action film with an occasional flash of Indiana Jones inspired adventure, but falls short of the tight, well paced sequencing that made the Spielberg predecessors classics. This is unfortunate because Alicia Vikander (The Danish Girl, Ex Machina, Jason Bourne) turns in a worthy performance as a rising action hero in the role of Lara Croft. The movie is a reboot of the 2001 and 2003 films that launched Angelina Jolie into the A-list of bankable movie stars.
In this version, the twenty something Croft is making her way in the rough edges of central London as a bicycle courier and training, unsuccessfully, in a kickboxing gym. Several years earlier, her archaeologist and businessman father Lord Richard Croft (Dominic West,  John Carter, Money Monster, The Square) disappeared on a quest to find the tomb of Himiko, the mythical Japanese Queen of Yamatai, who possessed dark powers to kill. When Lara is coaxed back to executive suite of Croft Holdings to sign legal papers declaring him dead, she discovers a message in a hidden research room of their family mansion instructing her to destroy his work in order to keep it out of the hands of the shadowy organization Trinity. Instead, Lara uses her father's research to launch her search for him. Continue reading →
Like what your read? We'll make it easy for you to share....