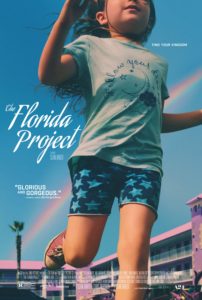 My movie review of The Florida Project, a brilliant film by Sean Baker made with an incredibly low $2 million production budget, is now live at The Independent Institute. At first, I didn't think this was a great film—a good film, an important film, but not a great one. After a few days, however, I was able to deconstruct it and more fully appreciate what Baker had accomplished as a filmmaker.
The story is told from the point of view of six-year olds living in an extended stay hotel near Orlando, Florida. Their parents can barely make ends meet; they are literally a couple of ten-dollar bills away from being homeless. Since we are told the story through the eyes of children, adults end up connecting dots and filling in blanks through their ears and eyes.  Six-year olds can't understand why or often even see why their parents or other adults might make really bad choices. But Baker gives us the clues through sight and sound to fill in the dots. Continue reading →
Like what your read? We'll make it easy for you to share....