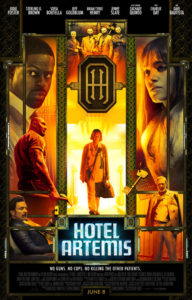 Hotel Artemis seems to have everything it needs to be a successful film but manages to fall flat anyway. Why is a bit of a mystery. The movie has a strong cast, and the characters should have enough back story to create compelling arcs that drive the movie's momentum.
The slapdash backstory doesn't help. The movie is set in riot-torn Los Angeles in 2018. Water has been shut off by the private contractor in charge of the water supply, although the reason is never explained. Gangs seem to run unchecked. Riot police patrol the streets keeping the mobs at bay. The city has imposed a curfew to quell the violence.  The city utility cuts off electricity at seeming random points. This dystopian activity is supposed to provide a setting that creates tension and conflict. It doesn't in part because the story's internal logic is never quite explained. Continue reading →
Like what your read? We'll make it easy for you to share....