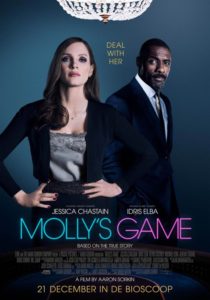 Everyone once in a while, I am reminded of how subjective our interpretations of movies can be. I recently reviewed Molly's Game, a biopic of "Hollywood Poker Princess" Molly Bloom (see also here). I really enjoyed the movie. I thought Aaron Sorkin's screenplay was snappy and engaging, Jessica Chastain well cast in the title  role, and the directing was inspired.
My interpretation, however, is not universal. A friend saw the movie separately, but on the same weekend, and said:
"The movie was superficial for a mob movie with an angle from the parental psychologist character [Kevin Costner playing Larry Bloom, Molly's father]. Molly's Game lacked the cerebral subduction and emotional entrapment of mob interfacing movies like the Godfather, Sopranos, or Casino. Especially disappointing when so much of the subject matter revolved around world-class poker. The Molly's Game script and movie's execution went for low-hanging emotional fruit found in label dropping visuals, IQ scores, and quick successional facts and statistics about the institution of poker. The high point for me was when the author plugged poker as skill-based as opposed to roulette. I felt the author was disingenuous as well as the "moral" of the story… good guys finish 1st… or slick stories sell movie tickets. "
Like what your read? We'll make it easy for you to share....