PRESS RELEASE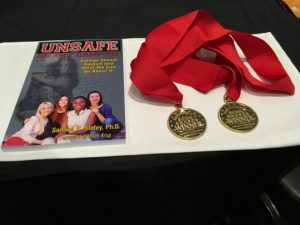 Lake Buena Vista, FL (8/5/2017) – The Florida Authors and Publishers Association awarded two Gold Medals to Florida college faculty member Samuel Staley's book Unsafe On Any Campus? College Sexual Assault and What We Can Do About It, one each the categories of Adult Non-Fiction and Political/Current Events.
Hosted by the Florida Authors and Publishers Association, this prestigious national award is open to books published between 2016 and 2017. Organizers say this year included the largest number of entries every drawing from a national pool of authors and publishers.
Unsafe On Any Campus? is written by Samuel R. Staley, a full-time faculty member in the College of Social Sciences and Public Policy at Florida State University.  Staley joined the faculty in 2011 after 25 years in the nonprofit private sector. He was unaware of the extent of the problem, which is national in scope, until he learned the stories of survivors and their friends while coaching martial-arts based self-defense classes at FSU. Staley holds a black belt in To-Shin Do, a self-defense oriented version of the classic Japanese "ninja" martial art of Ninjutsu developed by ninja master Stephen K. Hayes.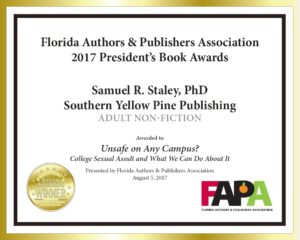 "Virtually every student will know a survivor of sexual assault by the time he or she graduates from an American university or college," says Staley, who acknowledges the extent of the problem may vary significantly by college and location. Staley describes his book as a primer for parents, college counselors, and students. "This book is my way of using more than 30 years of professional experience in the field of public policy analysis to explain a very complicated problem and outline practical pathways toward eliminating this scourge on our campuses," he says.
"The FAPA President's Book Award exists to promote excellence in the publishing industry by recognizing talented contemporary authors who put both heart and soul into their work. FAPA is proud to be a champion of authors and publishers going the extra mile to produce books of excellence in every aspect." said Jane R. Wood, President-Elect of FAPA.
Unsafe On Any Campus? College Sexual Assault and What We Can Do About It is a nonfiction book analyzing contemporary campus culture, why it puts college students at risk for sexual assault and rape, and presents a holistic solution that puts harm reduction at the center of strategies and programs.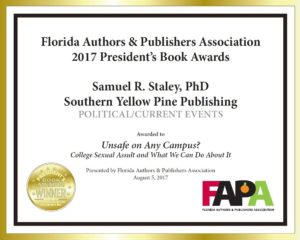 Ruth Krug, a survivor of campus sexual assault, writes in her Foreword: Unsafe On Any Campus? is  "innovative, practical, and empowering" and "signifies a turning point in addressing rape and sexual assault in college and university environments." Unsafe On Any Campus? is published by Southern Yellow Pine Publishing.
Medals were awarded at the annual FAPA President's Book Awards Banquet held this year at the Hilton Orlando Buena Vista Palace in the Disney Springs TM Area of Lake Buena Vista, Florida.
"We are proud to announce this year's winners who truly embody the excellence this award was created to celebrate.  We had a record number of entries this year. Competition was stiff! We salute all of our winners for their fine work," said FAPA's President, Terri Gerrell.
The Florida Authors & Publishers Association is an organization for authors, publishers, independent publishers, illustrators, editors, printers, and other professionals involved in the publishing industry. It focuses on providing the highest quality of information, resources, and professional development to members and others interested in the writing and publishing profession.
###
For more on Unsafe On Any Campus, including discussion questions, videos, and other materials on campus sexual assault, visit: http://www.campusninjaselfdefense.com
To purchase Unsafe On Any Campus?
at Barnes & Noble, click here.
at Southern Yellow Pine Publishing, click here.