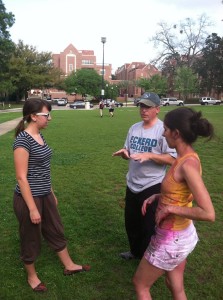 Ever since I started writing my book, Unsafe On Any Campus? College Sexual Assault, and What We Can Do About It, I have been asked what are the proactive steps we can take to reduce the chances our kids will be sexually assaulted when they go to college. It's a fair question, and I discuss some of these steps in the last chapter of my book. For those that are impatient, here are 10 action items that will go a long way toward addressing the problem:
Enroll your children in a martial-arts based self-defense program as early as middle school or ninth grade that includes scenario-based training and situational awareness.
Encourage high schools to include human sexuality in their curricula so that students are at least exposed to professional opinion about sex, intimacy, and human bonding, and why sexual assault and rape can be so devastating.
Encourage high school college counselors to include workshops on the risks and dangers on modern campus life, including bystander roles, responsibilities, and interventions.
Encourage parent groups and associations to hold workshops on campus sexual assault, risk reduction, and prevention.
Encourage adult discussions with teenagers and college-age children about sexual assault and how it impacts their lives and the lives of their friends.
Be open to a wide range of remedies and strategies for addressing sexual assault on college campuses while also insisting on evidence-based accountability in the programs;
Insist that colleges and universities hold offenders accountable, and provide evidence that their programs are reducing risks of sexual assault faced by students.
Read the campus sexual assault policies for the colleges and universities students plan to attend.
Ask for data on sexual assaults, investigations, and the results of those investigations.
Ensure college-bound students are aware of programs and support available to them and their friends at the schools they plan to attend.
You can find out much more self-defense programs and the book at my website, campusninjaselfdefense.com.