By Claire W. Staley
There are specific rules that are almost always followed in fiction, such as no adverbs, show don't tell, and don't overwhelm your readers with too many characters at once. Agatha Christie broke all of these rules in And Then There Were None, a mystery novel involving ten strangers with shady pasts on a deserted island. And yet, she is praised as one of the greatest mystery novelists. After reading this novel, she had me question my own past. Was I a murderer, too?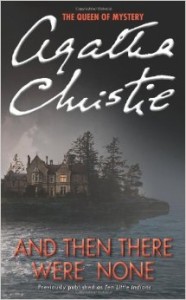 The reader is immediately introduced to all ten characters at once, and the reader gets multiple points of view. It's chaotic, but I kept reading. She uses adverbs all the time, and yet it seems appropriate for the story type. They did not jump out at me as usual. She tells the reader what is happening and how the characters are feeling instead of showing them, but it works because the reader is never supposed to understand the characters to their fullest extent.
There is a time to break all the rules. There is a time to do what feels right instead follow conventional norms. There are times it makes sense to forgo the common, but the decision should be made intentionally. The author should know why he or she chooses to break the rules, and he or she should understand why the rules are put in place. That being said: listen to your gut and remember that writers are artists, and artists are supposed to do whatever they want with their art. Go forth and be free, and write something amazing.
Like what your read? We'll make it easy for you to share....