The official release date is set for Tortuga Bay, the sequel to The Pirate of Panther Bay: September 5, 2015. We will be launching the book at the Decatur Book Festival (@DBookFestival) in Decatur, Georgia, September 5-6th. We will have a launch event in Tallahassee, as well, but the venue and date have not been confirmed yet. Take advantage of pre-release savings by pre-ordering Tortuga Bay and/or The Pirate of Panther Bay for $3 off the cover price! (Use coupon code READNOW.)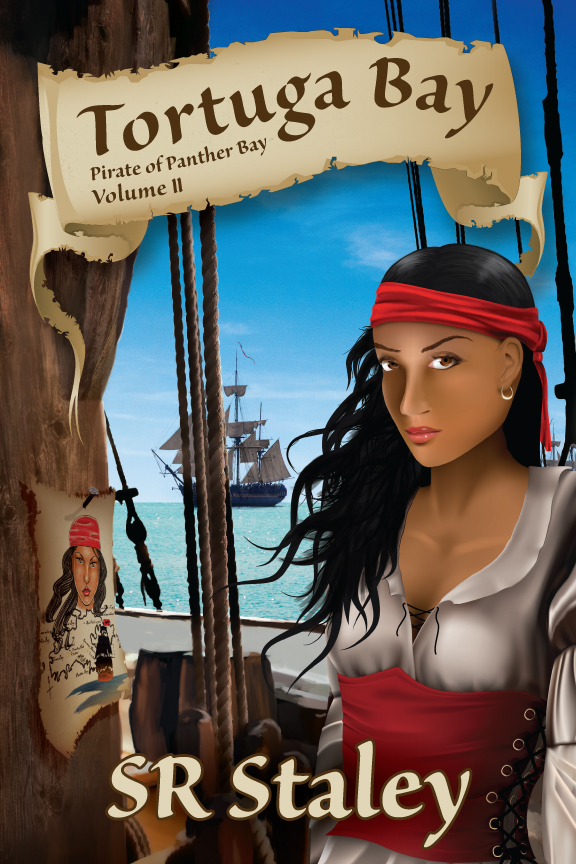 I am very excited about Tortuga Bay. Isabella goes into very different and a very dark place as she grapples with voodoo and a nascent slave revolt on Saint-Domingue (modern-day Haiti). Lots of swashbuckling action takes place, but I enjoyed working some bigger issues into the plot and character arcs in this version.
It helps that I'm getting great early reviews! Here's a sampling:
"Isabella sizzles in this swashbuckling sequel to The Pirate of Panther Bay.  Her sword slices through oppressors from the first page to the last in an adventure that puts her daring and decisive stand against slavery at the center of a story that shimmers like its Caribbean setting. Unputdownable!" Donna Meredith, award-winning author of Wet Work, The Color of Lies, and The Glass Madonna
"In SR Staley's sequel to The Pirate of Panther Bay, Isabella once again shows she is made of as much grit as any male pirate captain.  The action starts on page one and never lets up.  Through exhilarating battles at sea and the start of a slave revolution on land, Isabella fights for the success of her ship, safety of her crew, and survival of her lover, who happens to be a captain in the Spanish Navy — a sworn enemy.  At the same time, she is searching for the meaning of the Prophecy given to her long ago by her now dead mother.  Staley's familiarity with ships of war and the history of the region helps readers feel they are part of the action. " M.R. Street, award-winning author of The Werewolfe's Daughter, Hunter's Moon, and Blue Rock Rescue.
"If you pick up Tortuga Bay you better strap on your seat belt because you will be transported back in time to an era of pirates and ships chased by the soldiers and sailors of Spain's Most Royal Catholic Majesty. Isabella, continuing her role as The Pirate of Panther Bay from the previous book, is an intriguing character. By casting this young woman as a pirate captain Staley launches a frontal assault on all the female stereotypes so prevalent in literature, media and the entertainment world. He has done a remarkable job of mixing pirates, Royal political intrigue and Haitian voodoo into an entertaining tale." Col. Michael Whitehead (ret.), author of The Lion of Babylon and Messages from Babylon.
Stay tuned for updates as we get closer to the release!
Also, keep track of my comings and goings on my website: http://www.srstaley.com