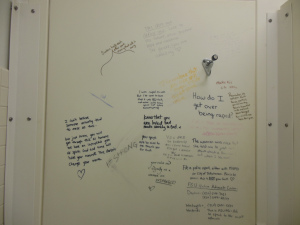 I still remember the day my business manager came into my office and said "you have to see what's on the women's bathroom door."  What followed changed the course of my life, personally and professionally.*
Written in permanent black marker was a heartbreaking question: "How do you get over being raped?"
Having someone ask the question in person is wrenching enough, but for a young woman to feel the desperation acutely enough to use the anonymity and randomness of a stall door was worse. We were in the College of Social Sciences and Public Policy, a far cry from any victim support services or law enforcement. For Ruth, a campus rape survivor, the question was rattling enough.
Even for those like me, who had not experienced that kind of soul-tearing assault, could feel the pain, confusion, and emptiness implied in the words and act.
But what happened over the following days was more extraordinary. Other women responded, spontaneously, sincerely, and constructively. Based on writing styles, ink colors and consistency, I estimate that between 14 and 18 women contributed to what became a conversation across the entire door.
At first, women provided information about institutional support: the FSU police department, office of the victim advocate, and emergency numbers were listed. Then, the conversation turned to the human tragedy.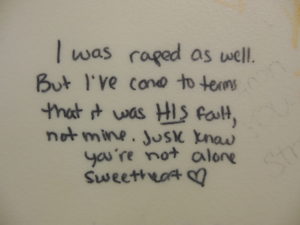 In this anonymous, sterile, empty physical space, women provided heartfelt personal support and counsel. "I was raped, as well," a new contributor to the discussion testified. "Just know you're not alone sweetheart." Another inked in elegant handwriting:"Your value and dignity as a woman are unchanged" followed by a heart symbol (emphasis by original author).
And the support kept coming,
        

"be strong"

        

"Remember, its (sic) not your fault. You re (sic) perfect, you are worthy. You are beautiful inside and out. Never forget, your sisters are here for you."

        

"This does not define you. Look to the future, allow yourself hope and ambition. Set goals, you are amazing." (heart symbol)
And they still encouraged her to call the police—"Sisters help each other. Making that call is scary"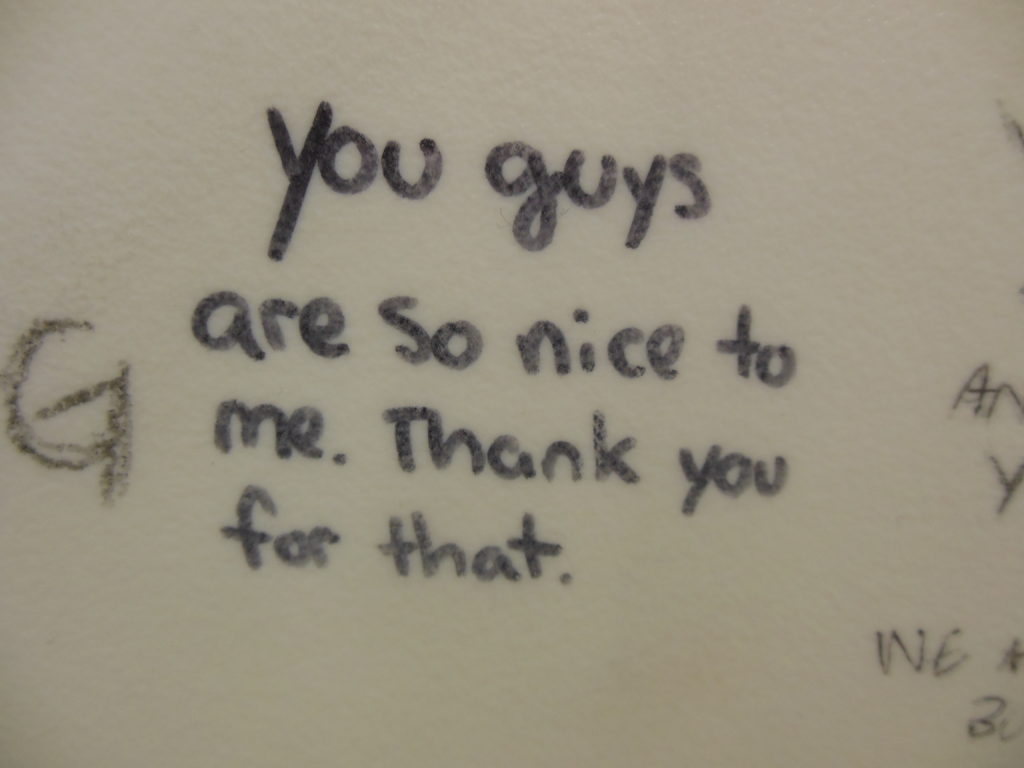 In a powerful statement about to the ability of humans to connect through personal tragedy, the initial victim responded: "You guys are so nice to me. Thank you for that."
Remarkably, the maintenance and cleaning staff at FSU let the conversation flow and did not clean the door for days (perhaps weeks). Perhaps they sensed the importance of the conversation for the woman who asked the question, the women who provided support to her and other survivors, and for raising awareness about the pervasiveness of the problem and the desperation of women caught in its vortex.
I don't know if the young woman sought counseling, or took advantage of the university's counseling services, or ever met the other dozen or so women that provided support to her.
The effect on me, however, was powerful. These brave, anonymous women allowed themselves to become vulnerable, confessing their own soul wrenching experiences while providing unsolicited, spontaneous support for their sisters. No other event showed how important sexual assault and rape were as events that shaped campus culture and the experiences of women on campus.
Prior to this, I had born witness to individual survivor stories. These were personal relationships. As a social scientist and public policy analysis, they were anecdotes. Now they were no longer anecdotes. I saw a pattern. This conversation convinced me that this issue needed a voice that could raise awareness about its depth, grounded in the emotional experiences of survivors, and think through the hard problems of coming up with a solution even if they were controversial.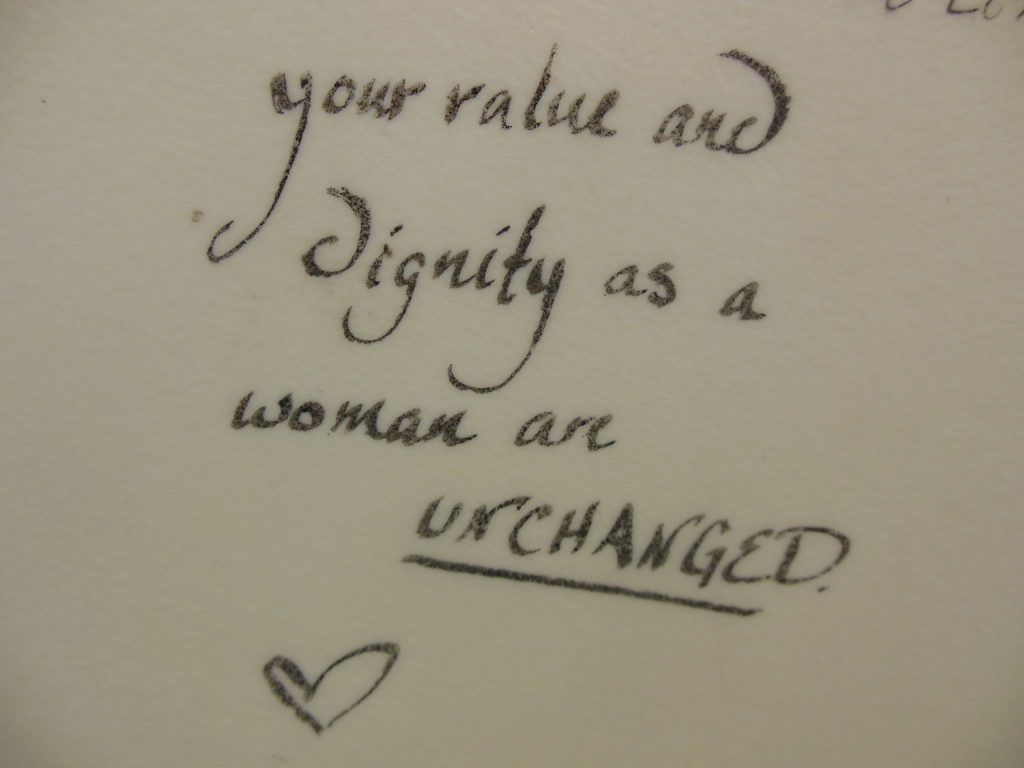 I don't know if I am that voice, but the product of my personal revolve to address this problem on college campuses and wrestle with the public policy implications led to blogging and eventually writing Unsafe on Any Campus? College Sexual Assault and What We Can Do About It. The book's cover incorporates some of the photos of this conversation taken by Ruth, and used with permission, to provide testimony on the emotional toll sexual assault and rape take on young men and women on our campuses.
I want to give a shout out to Judy Williams Kirk for suggesting I figure out a way to incorporate these testimonies into the cover and to Gina B Smith for her provocative and heartfelt cover design.
Read Ruth's discussion of this event on her blog, Reclaiming Lost Voices.
Read more about Unsafe on Any Campus? College Sexual Assault and What We Can Do About It.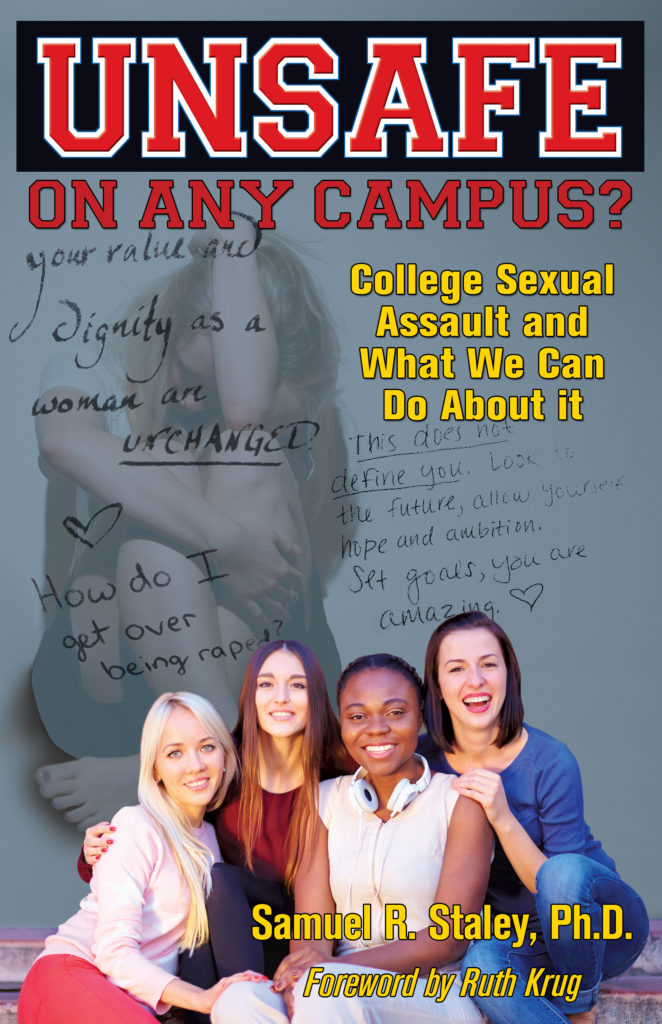 Buy the book at Southern Yellow Pine Publishing. (Contact me at [email protected] or Southern Yellow Pine Publishing for larger order discounts of 5+ and 25+. Pre-orders can be purchased with a $3 discount using the coupon code READ.
*Note, an earlier version of this article misidentified Ruth Krug as the woman who brought the messages to my attention. In fact, my business manager, Judy Kirk, alerted both of us to the words. Ruth, a campus rape survivor, worked for me at the time, and she was the one who chronicled the conversation through photos each day as the contributions lengthened.