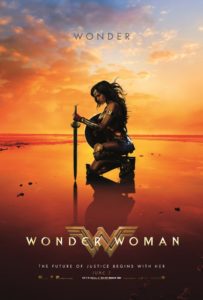 I am not a comic book or superhero fan, preferring more down-to-Earth characters facing situations that are more real world than fantasy. Yet, Wonder Woman is an excellent movie, one of my favorites so far in 2017 (see my movie review here).
For many, the strong female character is a big benefit, and I agree. As a novelist who features strong female characters in all my books, I found Wonder Woman's emphasis on a strong, multidimensional character gratifying and long overdue. I attribute this to the directorial prowess of Patty Jenkins as well as the charisma and strength of Israeli actress Gal Gadot in the title role.
But Wonder Women distinguishes itself on several other dimensions as well. Here are five not-so-obvious elements to love about the film.
Diana is a woman that kicks butt. And I mean a woman. She is not a woman dressed up as a man, competing with men on their terms. Perhaps the backstory of a race of Amazon women helps, but the writers have written her in as a strong female character. Her worldview is gendered female, albeit amazons are a warrior race. Wonder Woman, however, doesn't rely on strength to defeat her enemies—a typically male response. Rather, she uses her tools, whether the "Lasso of Truth," impermeable bracelets, or her shield. This is a refreshing acknowledgement of real differences between men and women, yet the story does not drive home a sense of superiority of one gender over the other. Rather, as a multidimensional woman, Diana brings a different perspective. She also brings a level of compassion to her warrior mission that adds layers and sophistication. (Some may argue that the compassionate element of her personality reflects a gender stereotype. I believe in fact it shows a human dimension that is not unique to either gender but manifests itself in different ways based on Diana's background as an Amazon.)
Combat choreography. The hand-to-hand combat sequences show a physical and emotional level of skill that is rare among actors and an attention to detail and fluidity unusual for Western filmmakers. As someone who studies martial arts (To-Shin Do ninjutsu), I appreciated the attention given to these details because it adds an authenticity to the actions of the characters and the plot. The interpersonal combat sequences reflect real combat techniques that can plausibly create the physical effects they intend to project (although, as in all action films, they are exaggerated for the camera and enhanced with special effects). Gal Gadot's two years of military service as a combat trainer in the Israeli army no doubt adds to this authenticity. She know how to throw a punch and kick, the camera does a great job of capturing these maneuvers, and the director has used special effects such as slow motion to emphasize them as an integrated part of the action.
The special effects are scaled. I still remembered being bored as I watched one of the Superman films as New York City (or was it Tokyo…or Chicago…or….?) was being decimated for no apparent reason other than to "wow" audiences with special effects. The effects did not move the story forward in any meaningful way—they were just showing a good guy and a bad guy throwing punches to see who would persevere and be left standing at the end. Jenkins, however, has scaled the effects in Wonder Woman to reflect the place and context of the scene and character. While we see and experience wild explosions and other fantastical elements, they don't overwhelm the story or the characters.
Seamless blending of an international cast. Gal Gadot is Israeli, Connie Inge-Lise Nielsen (Queen Hippolyta) is Danish, Elena Anaya (Isabella Maru) is Spanish, Chris Pine (Steve Trevor) is American, Robin Wright (General Antiope) is American, and David Thewlis (Ares) is British, and they all have accents. They also come from different cultures with different nuances about how to relate and interact with the different people as groups and individuals. Cultural unfamiliarity can often interfere with creating on-screen chemistry as the acting becomes wooden, formal, and less personal. The interpersonal connection is crucial to create believable relationships. The blend works in Wonder Woman, unlike other films (e.g., most recently Kong: Skull Island and the Great Wall). The director embraced their differences, and didn't force a familiarity that might have been difficult to orchestrate. The screenplay artfully creates interplay among characters that embraces the differences and uses human to emphasize contrasts in perspective or cultural norms that further the development of the characters and story. (For example, one of many humorous scenes in Wonder Woman involves Diana walking in on Captain Steve Trevor as his is bathing naked.)
A woman directed the big budget, superhero action film. Okay, this is obvious. But the significance of the trust the studios put in Patty Jenkins, and her ability to deliver a high quality superhero action film, should not be underestimated. This is a threshold event, probably more significant that Kathryn Bigelow's success with war/thriller The Hurt Locker in 2008. Bigelow was the first woman to win an Academy Award for Best Director and the film won for best picture. I would not be surprised if Wonder Woman is nominated for Best Picture and Jenkins is nominated for Best Director. While the film is likely not strong enough to win Best Picture, Jenkins' directing may well make her a favorite for Best Director.
Unfortunately, Wonder Woman is marred by a few significant plot holes and inconsistencies early on the film. But those will be the subject of another blog post. In the meantime, Wonder Woman is an excellent, engaging, and sophisticated action film that deserves in commercial success as the box office and the acclaim it has received from critics.