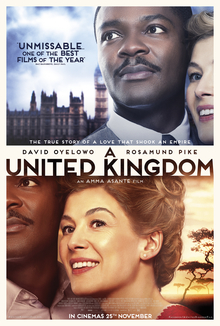 I take an in-depth look at the very well acted British film A United Kingdom in my most recent movie review at the Independent Institute.  The story highlights the romance and marriage between Sir Seretse Kama III, the heir to the throne of what would become Botswana, to Ruth Williams, an English white, working class woman in 1948.
The marriage touched off an international firestorm in colonial Bechuanaland (now Botswana) as well as in the United Kingdom, and ultimately resulted in their exile. The movie features fine performances by David Oyelowo (Selma, The Butler) and Rosamund Pike (Die Another Day, Gone Girl, Pride & Prejudice).
The story is a powerful tale of love and international intrigue firmly based in real-world events. Director Amma Asanta does a fine turn for the story by depicting a layered understanding of how race and racism played into the politics of post-War colonialism as well as African desires for independence.
Critics have given a thumbs up to the movie although I think it falters a bit. It simply tries to do too much. Ruth Williams Kama was a force in her own right, and she doesn't get her full due in A United Kingdom. She deserves her own cinematic treatment as a European facing the struggles of living in a hostile culture and climate while trying to gain acceptance within the traditions of her husband's tribe.
The Kama's story would also be worthy of a sequel to A United Kingdom. Plenty of drama can be found in Seretse Kama's fight for an independent Bechuanaland, which became a reality in 1966 with the founding of Botswana.
My complete review can be found here.
A commentary linking the economic success of Botswana to Seretse (and Ruth) Kama's political and economic liberalism can be found in the Tallahassee Democrat or here.