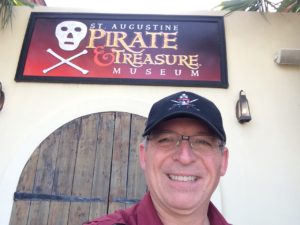 I finally achieved a major objective since moving to Florida: I visited the St. Augustine Pirate and Treasure Museum. This is the world's largest and most comprehensive pirate museum with more than 800 artifacts under one roof. The museum is just a stone's throw from Castillo de San Marcos, a 17th century Spanish fort overlooking the Matanzas River.
I learned that the entire east coast of Florida was a prime location for piratical activity. The port itself was ransacked and pillaged numerous times. In fact, the fort was built to help protect St. Augustine from pirate attacks. (I might have to send Isabella and Jean-Michel up the east coast of Florida in a future book in the Pirate of Panther Bay series.)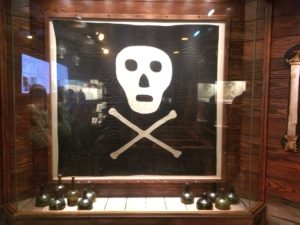 The museum includes a ton of history relating to the Golden Age of pirates, including weapons, life on board pirate ships, pirates in film (including a Pirates of the Caribbean exhibit) and one of just three surviving Jolly Roger flags! Several new interactive exhibits have opened up, such as kiosks that allow visitors to learn about pirate havens, trading routes, and more about their favorite pirates (or pirates they just want to know more about). The museum includes a room that simulates what it would have been like to be below deck when pirates boarded your ship. Another area recreates the experience of loading and firing cannon from the deck of ships either defending themselves or attacking other ships.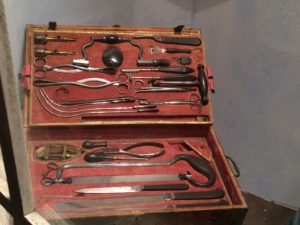 The visit helped me navigate several thorny historical facts relevant to the third book in the Pirate of Panther Bay series. Readers will spend some time below the gun deck of Isabella's ship as Doc attempts to save sailors wounded during battle. One of the exhibits includes a fully decked out surgeon's box with tools. Of course, in the 1700s, any wound was potentially fatal because the risk of infection was so high. Several period fire arms also helped me think through the limits of using those weapons during sea battles as well.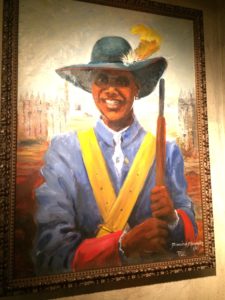 One of the most intriguing historical facts I learned surrounded Francisco Menendez. Menendez was a free black, and he helped defend St. Augustine and North Florida from pirates and other invaders (including the British). In the 1740s, he became a privateer for the Spanish government and recruited other blacks to join him defending St. Augustine.
The role of blacks in colonial history is an underappreciated aspect of piracy in the Caribbean. Former slaves made up as much as a third of pirate crews on some ships. La Florida under Spanish rule was a haven for escaped slaves, which became a source of tension between colonial powers as well as the newly established United States in the late 18th and early 19th centuries. (The fact Isabella is an escaped slave fits well into the historical reality of Caribbean piracy.)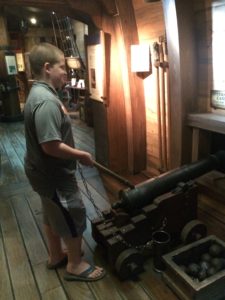 The museum has a lot to see and do since it added experiential exhibits. The museum is also set up for group tours, school visits, and other educational programming. Visitors should expect to spend several hours touring, and don't neglect the Treasure Shop at the end!
For more information and to check out what has been added recently, listen to this podcast (Episode #60) from Under the Crossbones with Cindy Stavely, the executive director of the museum.
While you are at it, check out the podcast with me (Episode #20), too!
(The official book trailer for the Pirate of Panther Bay is fun, too. The St. Augustine Pirate & Treasure Museum needs a trailer or 1 minute promotional video.)