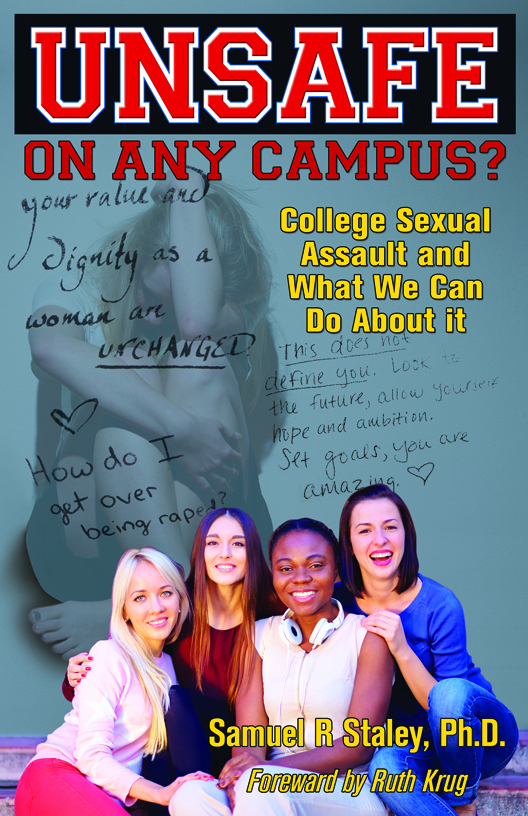 Unsafe on Any Campus? College Sexual Assault and What We Can Do About It is set for official release on July 28, 2016, at a location yet to be determined. Books are on sale now for pre-order, including a $3 off discount when purchasing from Southern Yellow Pine Publishing and using the coupon code READ.
This book is an unsparing, uncompromising and unflinching look at today's campus environments and examines why they pose significant risks to men and women for sexual assault. Ruth Krug, a campus rape survivor who also writes the Forward to the book, says it signals "a turning point in how we address rape and sexual assault in college and university environments."
The release event is planned to be more than just a book release. We will have experts on campus sexual assault to answer questions and discuss the problem and what colleges and universities are doing to prevent it.
TABLE OF CONTENTS
Chapter 1.  Campus Rape and the Soul of College
Chapter 2.  Sex, Rape and Human Dignity
Chapter 3.  Sexual Assault and the Failure of Civil Society
Chapter 4. Sexual Assault, Predatory Rape, and Campus Culture
Chapter 5. Experts Talk About Sexual Assault on College Campuses
Chapter 6. Moving Forward: Changing Culture
Chapter 7.  Personal Trauma as the Starting Point
Chapter 8. The Path Forward: A Trauma-Centered Approach
Chapter 9. The Reluctant Education of an Anti-Campus Rape Crusader
Read more about the book at campusninjaselfdefense.com.
Read some of my recent blog posts on campus sexual assault at the Independence Institute blog The Beacon: