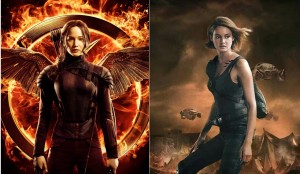 As the DC Comics superhero clash movie Superman Vs. Batman hits the theaters this weekend, I began to think about some of the stronger female characters in recent young adult action books and films. More specifically, we now have a new heroine to consider with the release of Alligiant, the third movie in the Divergent series: Tris Prior.
We will explore two questions: Whether Tris a strong female character and whether Tris is a stronger character than Katniss Everdeen.
In a previous post, I argued that Katniss Everdeen is not a particularly strong character based on a few key criteria. I believe strong characters, male or female, human or alien, should:
Have strong identities;
Relates to peers as a peer;
Make important choices;
Take personal responsibility;
Exhibit courage.
These characteristics allow the protogonist to influence the trajectory of the story, and I think this is essential for a character to be considered strong, rather than weak (or passive).
Characters don't have to start out strong in each of these criteria, but they should grow into them or end strong on each characteristics them before the story ends or progresses too far. Katniss Everdeen, despite her reputation among fans, falls short on a number of these criteria. She doesn't have a strong sense of herself or place and appears emotionally and physically weak among her peers. She does make a few important choices, but even the most important ones–like taking her sister's place during the lottery for the Hunger Games–are driven by circumstances rather than an exertion of her own free will. She plays defense rather than offense. On a good note, she takes personal responsibility for her actions, and she exhibits a tremendous amount of courage. Nevertheless, in literature and the films, all these criteria need to be met before she can be considered a truly strong character. Courage is not enough.
So, how does Tris Prior, the heroine in the Divergent books and films, stack up against Katniss? I decided to apply the same rubric to test my own framework, and here are the results:
| | | |
| --- | --- | --- |
| Characteristic | Katniss Everdeen | Tris Prior |
| Strong identity | weak | Medium-Strong |
| Relate to peers as a peer | weak | Strong |
| Make important choices | medium | Strong |
| Take personal responsibility | strong | Strong |
| Exhibit courage | strong | Strong |
While these comparisons always carry some degree of subjectivity, I think Tris Prior is a stronger character than Katniss Everdeen on a number of different metrics. While she faces the uncertainty of the psychological aptitude test to determine which faction best suits her, she opts for Dauntless even though the tests are inconclusive. She enters her training determined to be equal if not superior to her peers, and she is unafraid to make choices–whether to flee, return to Chicago, or track down her nemesis to kill them to avoid greater tragedies from taking place. She also never flinches from taking responsibility for her actions even when she is unsure of whether she can accomplish the task. She is willing to pursue her objectives even without help. She is on the offense, and doesn't simply react to events around her; she tries to change the trajectory of those events. Tris, like Katniss, exhibits a tremendous amount of courage throughout her journey. Indeed, this is demonstrated early in the first book/movie when she jumps through the hole in the Dauntless training facility without realizing she would be saved by a net at the bottom.
The biggest difference between the two characters, in my view, is that Tris begins with a stronger personality. She is willing to stand up against injustice,d despite the risks, and she is willing to try to change the trajectory of events. She is not interested in fading into the background. Unlike Katniss, Tris embraces her new skills and identity. While she doesn't accept the leadership role she creates through her resistance to the authoritarian Erudite rule, she does not try to avoid the responsibility of leadership.
Thus, in the end, Tris is leader and stronger character.