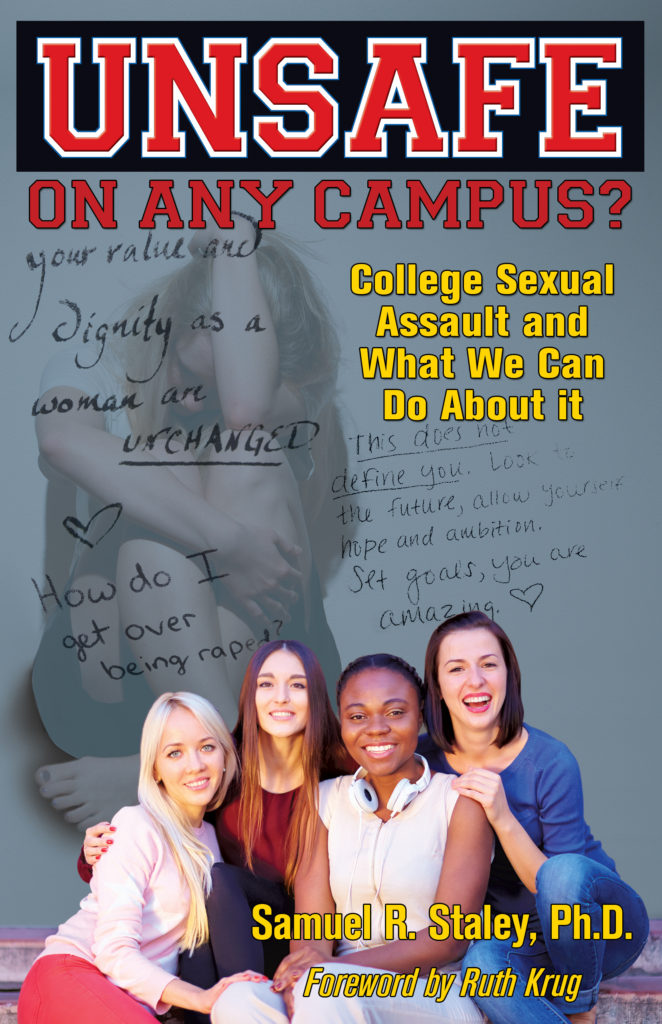 Most of the sexual assault survivors I have come to know in the process of researching and writing Unsafe On Any Campus? were teenagers when they were raped. For many, the assault turned their world upside down, sending them into a downward spiral of self-loathing, distrust, and cynicism. Fortunately, for most, resilience won out. In fact, a few have even found a new center, a renewed sense of self, and an element of peace.
This begs the question: What life lessons can we learn from these trauma survivors? Here are just five:
Live in the moment

. In all too many cases, the rape was so traumatizing that victims dropped classes, withdrew from school altogether, or completely shifted their everyday lives inward. Their depression was fueled by continually reliving the events and the assault. Their transition from victim to survivor often began with a renewed and deeper appreciation for the moments of support, beauty, and dignity they experienced each day rather than reliving the horror of the assault. This allowed many to reclaims their sense of purpose and recapture the dignity that makes them human. 

Draw strength from community

. Eighty percent of women who have been raped never disclose the assault to university or law enforcement officials. The figure is even lower for men. The trauma is so personal, so devastating, that many victims are afraid to tell anyone, even their closest friends and family. Reaching out to those cared for them most intimately, those who gave their unqualified support, started them on their path toward recovery. Without the support of those friends and family, survivors say they wouldn't have had the courage to acknowledge let alone go public with their assault. This close knit group because their rock, their community, and a foundation stone for rebuilding their lives. 

We each have our own journey

. Each survivor has their our own personal journey to recovery. The more survivors I met, the more obvious it became that each rape (and assault) was different, each circumstance was unique, each consequence personal. I have met women who were able to move on quickly, and others that struggled to leave their home. The depth of their trauma is highly individualized, making their journeys equally diverse. Survivors are deeply respectful and tolerant of the importance for individuals to chart their own course, to discover their own path, to recovery. This inward reflection leads to a recasting of identity and understanding of self that is inspiring strong and purposeful. 

Each journey has its own path

. Not all survivors choose the same road to recovery or healing. The physical and emotional nature of a violation through rape triggers deep wounds that are often invisible, even to those that experience it. Thus, the paths are as varied as the journeys and require many more decisions than paths available. These paths can seem like they shift under their feet, and often become illuminated only after they have been trodden. Survivors on a healing journey are remarkably resilient. They understand the nature of emotional barriers and the difficulties of overcoming them. They are patient and empathetic. They persist with grit and determination. 

Forgiving yourself is essential for healing and stepping foot on our path

. Often, this self-forgiveness begins when we acknowledge the truth of a seemingly trite, but essentially true, mantra: "It's not your fault." Many of the men and women I came to know became victims through no fault of their own. They were in the wrong place at the wrong time, and unaware of the threat standing right next to them. Yet they blame themselves first and this weight drags them deep into depression. The path toward healing begins with forgiving oneself. Indeed, this may be the most important lesson of all because this self-forgiveness releases one from the self loathing and guilt that keeps victims in the past, focused on the past, and their paths dark.
These teenagers became women far too soon, their innocence stolen in a matter of minutes. They were forced to "grow up" and become adults far faster than any parent would want for their child. Fortunately, many survivors find a place where they can accept themselves again and embark on a path of self re-discovery. These stories—their journeys of recovery and healing—are almost never told. They don't make it into make it into the headlines. Yet, as these survivors pivot on their path, they often find a light others may never know.
They also inspire me.
By bearing witness to their trauma, we can take inspiration from their journeys. By allowing ourselves to hear, we can understand the struggles that come with trauma. If we understand, we can support those who are on their path as well as those struggling to find it.
Perhaps, if enough of us understand, sexual assault and rape will become relegated to a dark part of our social history and banished from our present culture.
Permission to reprint and distribute this blog post is given with attribution to the author, Samuel R. Staley, Unsafe On Any Campus? College Sexual Assault and What We Can Do About It (Southern Yellow Pine Publishing, 2016)