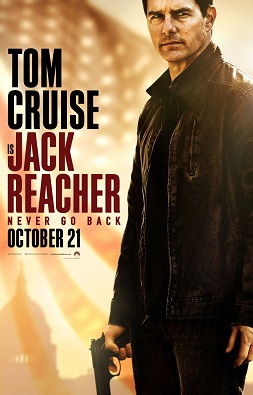 I recently saw the Tom Cruise action film Jack Reacher: Never Go Back. The movie was very serviceable as an action film—lots of fights, car chases, and take downs of bad guys—but I was disappointed overall. I personally believe Cruise is one of our best actors, and he, like Matt Damon, is capable of filling action hero roles quite capably even as he progresses through his mid-50s. (In fact, the sci fi action movie Edge of Tomorrow remains one of my favorite movies.) Even though Cruise has an entire wikepedia page devoted to his awards, he may be the best actor currently working yet to receive an acting academy award. Jack Reacher doesn't come close to other movies in quality despite the talents of Edward Zwick, the academy award winning director of Shakespeare in Love and critically acclaimed films such as Glory, Legends of the Fall, and The Last Samurai. Why?
I explored this question using a rubric that includes seven criteria to help me think through a film's overall quality and pinpoint its strengths and weaknesses. I've done similar things for character development in novels (see here and here).
Never Go Back is part of the Jack Reacher thriller series penned by British novelist Lee Child. The story puts former military policy investigator Jack Reacher into the center of a conspiracy to swindle the U.S. government out of millions of dollars through illegal arms sales. The inciting incident is the arrest of Major Susan Turner (Cobie Smulders), who is in charge of Reacher's old unit. She's jailed for espionage, but is really a target for assassination because her investigative work uncovered the arms trafficking scheme. Reacher also learns of a paternity suit in the course of the investigation that claims he is the father of a 15 year-old girl, Samantha Dayton (Danika Yarosh). When Turner's attorney is murdered, Reacher is framed for the crime. The assassins quickly link Dayton to Reacher, expecting to use her as a pawn to trap and kill Reacher. So, the film is off and running as action adventure crime thriller.
I thought Never Go Back was a enjoyable action movie, but fell short of being an excellent one. It relied too much on formulas, and not enough on creative storytelling. So, how did this movie fall short? What made the difference between mediocre and great? These are my thoughts based on my film criticism rubric.
Production values & artistic scope. Overall, the film didn't have anything that pushed the envelop. The cinematography was state of the industry, but not state of he art. In leading action films such as Mission Impossible or Jason Bourne, technology is used to augment action sequences. Creative editing slows or hastens the pace. The camera shots engage the viewer with different angles and perspectives to illuminate motivation, create suspense, and immerse the viewer. I didn't see much of this creative use of standard film tools and techniques in Never Go Back. It was yoeman's work, for sure, but not much beyond it.
Plot, internal consistency & composition.  The plot wasn't particularly creative;
"good guy, but flawed, cop uncovers duplicitous arms dealer" is a pretty worn concept. Buddy rescue stories are also pretty common. The fact that the new boss of Reacher's old unit is a woman (Turner) might have been innovative in the 1980s and 1990s, but in the 2010s it's almost cliche. Similarly, the emotional threat of a family member being used to derail the good guy cop is also pretty common (remember Lethal Weapon?). Reacher is a drifter and loner, much like old western heroes, and being tied down by an unwanted child is also a familiar plot device (recall True Grit, Shane, etc.). While the story had an internal consistency—few loose ends left around at the end—its plot and composition were pretty stale. Also, the subplot of the uncertainty about paternity seemed contrived to add some humanity to the hardened soldier turned outlaw. In part this was necessary because Major Turner could pretty much take care of herself. So, some character had to be vulnerable, and that ended up being the teenager that might be Reacher's daughter. She was never fully integrated as an essential element of the plot.
Story plausibility and dialogue. Okay, this is a bit of a stretch for action films—they are almost always implausible—but my assessments are put in the context of the genre. The dialogue was straightforward without nuance in Jack Reacher. The banter was standard and straightforward, with little wit; Audiences weren't asked to interpret much beyond what was said by the actors. In fact, I found very little in the way of compelling visual storytelling, in contrast to other similar films such as Deepwater Horizon and Jason Bourne. What makes cinema different from literary forms is the ability to show character and emotion through facial expressions, physical action, and reactions to events and other people without resorting to dialogue to tell the story. Visuals substitute for literary description. The actors were asked to do little more than straightforward acting in the film.
Context in terms of genre. The film's plot is relevant to the action film genre. After all, the U.S. is winding down the war in Afghanistan, and those weapons can easily be diverted. But the story doesn't unfold in a creative way. The theft of arms is a standard plot for military television series such as NCIS or JAG. The theme simply is transported onto the big screen in a formulaic way. Even adding a corrupt inside guy n the military isn't presented in an innovative or creative way.
Entertainment & audience engagement. Never Go Back was entertaining, but it didn't keep me engaged evenly throughout the film. If I had received a phone call or text message, I would have been willing to leave the theater to take it believing I wouldn't miss much by the time I returned. In part, this is because the film was predictable and lacked imagination. This movie could have easily gone straight to DVD and saved for late night parties for your teenager.
Character depth & arc. None of the characters really grow. At the end of the film, Major Turner is redeemed and goes back to her job running Reacher's old unit. She is restored to her position rather than given new responsibilities, and her relationship with Reacher is not significantly deepened. Reacher goes back on the road, taking up his vigilante lifestyle, and the girl goes back to school (albeit this time living with her real mother who has cleaned up her act). Ironically, its the teenager—Samantha—that grows the most. She realizes the truth about Reacher, develops true feelings for him, but takes on a more mature and adult role as daughter to her mother. Unfortunately, Reacher and Turner on the leads in the movie, not the girl.
Social message & relevance. The film has virtually no social relevance or meaningful message, except that Jack Reacher might not forsake the child he may have fathered. The film ends with Samantha giving Reacher a phone for him to contact her, but he doesn't embrace the new relationship. Similarly, showing bad guys as bad guys doesn't really advance our understanding of human nature, or reveal new ways of looking at human relationships. It's all standard formula action movie fodder.
I am not sure how these aspects of the film could be "fixed," but actors, producers, and directors of Tom Cruise and Edward Zick's stature and experience can certainly find ways to do it. I didn't feel like I was ripped off sitting in the movie theater, but I certainly expected more and I believe the principals could have given more. With a production budget of $60 million, they could have. On the other hand, the film has generated nearly the same amount in domestic revenue and $136 million worldwide. So, in at least a commercial sense, the film is a success despite its artistic flaws.